What is Corporate Gifting?
In a nutshell, corporate gifting is the practice of creating a touchpoint with prospects, clients, or employees thru the use of a gift. This gift can be physical, like a gift basket, an experience like concert tickets, or digital like an eGift card.
What Does Corporate Gifting Do?
Let's be honest, we all love getting a gift. That rise in heart-rate, the what is it thoughts racing through our brains, that joy we feel knowing someone, somewhere, thought of us. The positive effects of getting a gift are both physical and mental and most of the time they lead to what is known as The Endowment Effect. A study done by researches looking into the effect of gifting on a business and its outcomes, states that upon physically receiving an item a person feels a sense of ownership over what they receive which leads to them valuing it more highly. This elevated value and positive emotion will lead to enhanced feelings of trust and ultimately reciprocity. It is this final step in the gifting journey that explains the true power of corporate gifting. A simple gesture can often lead to a lifetime of value.
Who Do You Send Corporate Gifts To?
We've all heard the famous sale phrase, " Always be closing." Well, in this digital age, we want to add a phrase to the mix "Always be acquiring!" Any successful business needs to put as much effort into acquiring clients as they do to retain them. The key to a strong prospecting strategy is adding unique value from the start. Gifting prospective clients is a way to create a stronger connection, add value, and ultimately aid in personalizing a client's journey with you. According to instapage, 80% of consumers say they are more likely to do business with a company if it offers personalized experiences. Sending the right gift can take a lead from lukewarm to red hot and converting.
Researchers have proven that consumers with emotional connections to a brand have a 306% higher LTV. As great as a product or service may be it is clear that the key to long-term success is relationships. Whether it's to commemorate the closing of a deal, encourage their continued loyalty, or create a touchpoint after a gap in contact, gifting a client has the power to make you stand out above the pack and ultimately create an emotional connection. The mark of an effective gift is one that leaves a lasting impression and keeps you relevant in the client's mind.
"Tip From Our Team – maximize the long-term benefits of your gift by sending them something experiential. The Spa & Wellness Gift Card recipient always speaks to the joy they feel when receiving the gift and then experience again when they go in for their wellness service."
Perhaps the less recognized of the trio, but maybe the most important is employee gifting. Any successful leader knows that the key to positive client outcomes starts with their team. Employee gifting is one of the tools companies and managers can use to make their teams feel valued and to foster a culture of connection. Whether is to commemorate a career milestone, build team unity, or celebrate an employee's personal event, gifting can be an effective motivation tool.
What To Gift?
There is no right or wrong answer to this question. There are a lot of options for corporate gifts and a lot of variables that go into choosing the perfect gift.
Here are a few key things to consider when choosing a corporate gift for clients.
Volume – Understand the size of your gifting program, how many clients are you including?

Account History – The history of a client's relationship with the brand is key to finding the perfect gifting strategy.

Budget – Make sure you understand the budget for your gifting program so you can make the most cost-effective decisions.
When looking to build out your employee gifting program it is also essential to understand the size of your teams and the frequency of your employee gifting needs.
Looking to better understand some gifting options that are out there? Check out this post.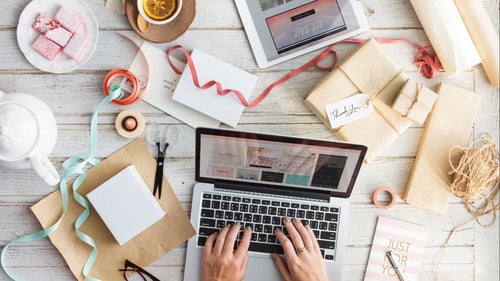 Is There An Easy Answer?
It's a lot to consider and take in, we know! One way to alleviate the stress of corporate gifting is to find a few options that you trust to create the gifting experience you need – on demand. Our recommendation? Check out The Spa & Wellness Gift Card. One card gives the recipient access to over 9,000 spa and wellness locations across the country. Valid year-round, with no expiration date, the card will allow the recipient to experience thousands of wellness services including, massages, facials, acupuncture, yoga, haircuts, and much more. Learn more and add the card to your program today.
Interested in learning more and dive deeper into the stats behind corporate gifting check out this great post.