Whether your focus is consumers or you're looking to revamp your company culture – personalization should be your mantra. Building loyalty is all about the experience your brand offers and the relevant incentives available through your programs. Whether it's a consumer shopping a product or an employee finding their feet in your company, their experience should feel custom to their interests and goals.
This post will dive into how to create a customer-first culture at your company and show the power of customer loyalty and how it can increase your consumer's LTV.
Are You A Customer-First Company?
No matter your industry or product, consumers have come to expect a personalized shopping experience. This climate is called a customer-first culture meaning your customer experience (CX) is as important as your products and services. Studies show that companies with the best CX see nearly six times more revenue than those with poor CX.
Being customer-first isn't just about having great customer service or offering rewards for repeat purchases. It is a group of actions and policies that need to be upheld throughout a company. Wondering if your company is customer-first? Here are some starter questions to help you figure it out:
Have you taken the time to get to know your consumers?

Is your user-interface (website, app, software) easy-to-use?

Are you communicating with emotion and sincerity?

Is the customer-first mindset a core value held company-wide?
Not sure if your company or team is quite there? No problem! You can begin the customer-first journey at any time.
Before we dive into how to create a customer-first experience it is important to understand the value in this approach. The Pareto Principle states that 80% of your profits come from 20% of your consumer base. The more time you put into creating optimized experiences and building loyalty the stronger your profits will be.
How to Create a Customer-First Culture?
First things first, this is an ongoing process. Customer needs and expectations are evolving so your culture and programs need to change to. To get started on creating or ensuring your company has a customer-first approach follow the steps below –
1.
Make customer success a core value. Highlight your customer-first approach as part of the corporate mission to cement it as a structural element of the brand as a whole.
2.
Make it more than lip service! Implement customer-first practices in the day-to-day processes. Invest in continued education for employees so they are always learning the newest ways to put the customer first.
3.
Solicit consumer feedback. All data is good data! Your customers will tell you what they do and do not like and help your efforts evolve correctly.
"Hot Tip – Try post-purchase or post-call surveys to maximize on every interaction. Want to increase participation? Offer an incentive like the Spa & Wellness Gift Card for completion of the survey!"
4.
Solicit employee feedback. Your employees will have unique insights into the customers and their needs. Asking for their feedback will also increase employee engagement and happiness, which is key to customer retention.
6.
Amass consumer data! This the key to personalization. The more you know the more you can customize your CX. 87% of Americans are willing to have various details of their activity tracked in exchange for more personalized rewards and brand experiences.
"Hot Tip – The Spa & Wellness Gift Card is a personalized reward that truly is one-size-fits-all. Offering access to thousands of wellness services the card gives the consumer the ability to customize their wellness journey."
7.
Create personal connections. Customers with an emotional relationship with a brand have a 306% higher lifetime value. These customers will recommend the company at a rate of 71%, rather than the average rate of 45%. Using targeted communication, offers, and value adds can help you form a personalized experience the consumer will eagerly engage with.
"Hot Tip – Embrace experiential value adds. Gifting access to unique experiences or events helps a consumer create an emotional connection with your company as they tie your brand back to these positive memories. "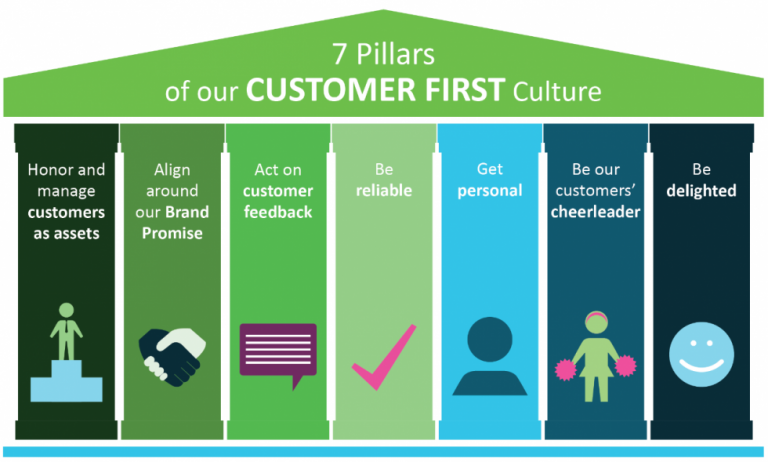 How Does A Customer-First Culture Create Value?
So no, this isn't a quick process, but man does it have the potential to pay off! The more time you spend creating a unique customer-first experience and the stronger you build your loyalty program, the more you can charge premium pricing and increase the value of every consumer interaction. A study done by Oracle found that 41% of consumers, and almost half of Millennials (47%), agree to pay up to 20% more for an exciting and unique customer experience.
Okay, we believe you – but why does this work?
Simply put, your customer experience is now considered part of your product offering.
In this digital age, where options are endless and attention spans are limited, the experience you offer is as important as the product or service you are selling. For the modern consumer no longer is the end result the key motivation. In fact, we live in a culture where the journey is as important as the destination. A study done by Deloitte found that 56% of consumers say that 'the overall enjoyment of their experience' is important in their decision to buy a product or service.
Are you ready to go customer-first? Great! If building a loyalty program is on your agenda check out good tips here.